20/06/2010 Venue:
Soccer City, Johannesburg
Ref:
Stephane Lannoy (FRA)
Att:
84455
Brazil:
1-Julio Cesar; 2-Maicon, 3-Lucio, 4-Juan, 6-Michel Bastos, 5-Felipe Melo, 8-Gilberto Silva, 7-Elano (Alves, 69), 10-Kaka (2Y), 11-Robinho, 9-Luis Fabiano.
Ivory Coast:
1-Boubacar Barry; 21-Emmanuel Eboue (Romaric, 72), 4-Kolo Toure, 20-Guy Demel, 17-Siaka Tiene (Y), 5-Didier Zokora, 19-Yaya Toure, 9-Cheik Tiote (Y), 8-Salomon Kalou (Keita, 68 Y), 11-Didier Drogba, 15-Aruna Dindane (Gervinho, 54).
Brazil's first victory was not easy as expected. After drawing first half against North Korea, some expected a shocking result is on the way. However, as
Zonal Marking
pointed out the goals were coming slowly but surely to Brazil. 2-1 was not bad result against counter-attacking team like North Korea and with Robinho starting to player as we expected to play, they were only getting stronger day by
day.
World Cup in Africa did not give much help to African teams so far. Recording only a single win out of 11 matches, it made me question their World Cup preparation. Ivory Coast were no exception. Although they were without Drogba, I expected more than 0-0 from the team with full of talented players, like Dindane and Toure
brothers. Pressure on Sven!
The match started brightly as Brazil broke in to Ivory Coast's territory a few minute after kick-off but Robinho could not neither target nor his man on the flank. From that point onwards, literally nothing happened. Many misplaced passes and bad ball control dominated opening 25 minutes of the match.
But suddenly, a goal. All of a sudden, Brazil pressed on and with through-ball of Kaka, Luis Fabiano blasted past Ivory Coast keeper, Boubacar Barry. 1-0 and I
thought the match will open up but how wrong was I.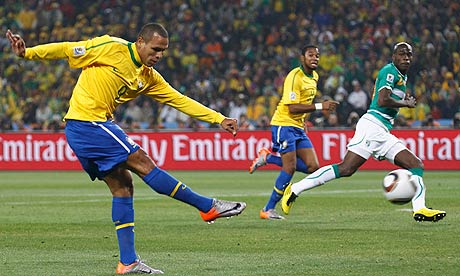 After conceding goal, Sven and his players continue to play in dull fashion. No reaction from Ivory Coast and with Brazil in possession, Ivory couldn't do much. Only valid effort came from Emmanuel Eboue but his shot was off the target HT: 1-0
2nd Half began well for Brazil and within 5 minutes, they scored another goal, courtesy of two Fabiano's handball. However, introduction of Gervinho from Ivory Coast made the match more tasty, as the Elephants put some pressure on Brazilian defence. Did they score? Nope. It was Brazil once again with Kaka and Elano's brilliance. I
vory Coast eventually hit back though and it was Drogba with
guiding header but it was too little too late from Ivory Coast and Drogba.
In latter stage of match, things got ugly as Kaka and Kader Keita continue to shove each other in several occasion. Eventually, in the 90th minute, Kaka was sent off but debating point still remains as Keita acted, like Rivaldo in 2002, to get Kaka to red-carded. FT 3-1