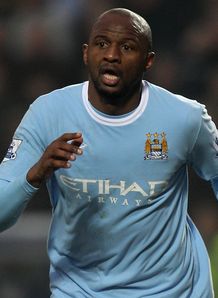 http://tiny.cc/k2gwx <- BBC confirms that Vieira sets to stay one more year. Good news for City?
Personally yes. He is not the player he used to be and we all know that. But, he is still a useful role player who can give something outside the game, such as being a mentor to young players. He also showed that he still has the skill and physicality to play some matches in the Premier League. Match against Villa is a good example that he hasn't lost touch just yet. Overall, good decision made by Mancini.
Edison Cavani (Palermo, Striker)
Cavani became the latest player to be linked with City
. The Uruguayan, who started his football at Danubio, Montevideo, moved to Palermo in 2007. He didn't do particularly well, due to Amauri's exceptional season with Palermo. But he blossomed in 2008-09 season, netting 14 goals and 4 assists. He managed to maintain his performance in 09-10 season, scoring 13 goals for Palermo. Here is video of him, scoring against mighty(?) Inter:
In fact several clubs, including Aston Villa and West Ham, want his service, according to
Clubcall
.
Probability of signing him? Well, I still think he got pace to play in the Premier League. Might not be against top team like Chelsea, Man Utd or Arsenal, but could be effective against club in lower half of the league. Injury prone? Yes! But he is free so it is a risk worth taking. Especially, Villa and Everton need good cover for their wingers, I think, there is possibility of him going to those clubs.