Dzeko Off to Inter?
Recent speculation of Dzeko joining the Nerazzuri seemed to be another baseless rumour out of no where, as his agent,

Irfan Redzepagic,

strongly denies the rumour of him moving to Inter. Although he had some thought on moving somewhere else, when Falcao was rumoured to be signed, . As one of most efficient striker in the EPL, City got to keep him for their competitiveness up front.
Never Ending Saga of Mario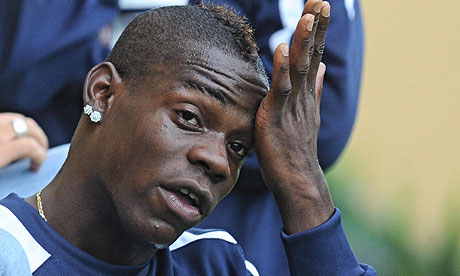 Another Keeper?
So Pontilimon is not good enough to challenge Hart and it is now reported that City are battling against United, who has a big problem in their goalkeeping position, to get Asmir Begovic for
£
13 million. Seems to be a waste of money for a keeper who is just a good enough to play in a regular club. I would've contemplated on buying same
caliber of Thibaut Courtois, who is certainly going to replace Petr Cech at Stamford Bridge in near future but the City's top rank seem to have different idea.
Talent from Middle-East
ClubCall reported that City are monitoring
UAE playmaker Omar Abdulrahman after his outstanding Gulf Cup performances. Hamburg and Sporting Lisbon also monitoring this youngster, who gave an impressive performance in London 2012. Dubbed as UAE's own Iniesta, he does look impressive and hopefully City will be able to sign him.