Closing gap is never easy. This season, in fact, it seems mission impossible for the Blues to overtake United, as they look to be enjoying their life with their talisman RVP.
But City have to march on. Even we do not retain the title this season, there is FA cup up for a grab and surely securing second place will consolidate our stature in EPL. Not as prestigious as last year but at least we have something to play for until the end of season.
Match against Villa at their home has been patchy for City. Apart from last year's win, all thanks to Lescott, City were not able to get an easy win at Villa Park since City started financial maneouvering from 2007-08 season (Recording 1W 2L 2D). Especially, after the crashing defeat at St Mary, it seemed anything could happen.
Game started with surprisingly live Villa side trying to dominate the game with some fluidities in their play. But with young and inexperienced side like Villa, this was not a good sign as it empirically showed that this can not be sustained over whole 90 minutes. Especially, after Benteke's towering header from corner blocked off from the line, Villa seemed to be on the slippery slope.
The match came alive ironically when Rodwell was substituted for Dzeko, for his left hamstring injury. Silva's pass to Zabaleta found a space for the flying Argentine to take shot, which was brilliantly guided towards the post by Guzan. Minutes later, another fine effort was made by Tevez from outside of the box and once again it was Guzan who palmed away our Apache's shot.
Eventually, the deadlock broke by persistence of Dzeko, as he hustled Clark to dispossess in their own half to regain possession for City. He then found Tevez in the space, who managed to wriggle through Villa's defense to find back of the net, his ninth goal of the season.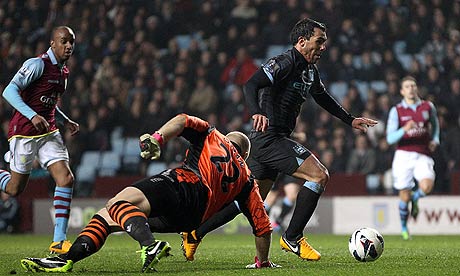 Courtesy of Guardian
Second half was not much different from the first half. Villa tried to regain their early dominance but almost conceded another one when Dzeko dispossessed Villa defense in their own half once again and managed to find Tevez with a good angle to work on. Only this time, Tevez could not find back of the net to settle the nerve of away fan.
There was a startling moment for City when Lowton blasted a fierce shot from way out but it was no match to Yaya's instinctive shooting around the box, which rattled the right hand post of Guzan.
Dull performance overall and it was expected, considering how both of the clubs has been playing throughout the season. Routine performance dully delivered from City and left Villa at the bottom three. Final Score: Aston Villa 0 Manchester City 1