Well I decided to return to my blog, mainly through boredom. I stopped writing due to various issues, non city related, but I'm glad to be back.
A great deal has changed since I last posted, Mark Hughes has been dismissed from his post and replaced by Roberto Mancini! City have exited both cups, yet have firmly staked their claim as a real contender for the 4th place. Disappointing results with Stoke have been counter balanced with great win at Chelsea!
We have seen a stark contrast in style's between both managers. Hughes gung-ho approach eventually cost him his job, although very entertaining to see your side completely geared to attack, it didn't satisfy the needs of the club result wise. The inability to create a settled defence in the two season, with vast spending, cut short Hughes City career. So it was no surprise to see Mancini step and place the emphasis on defensive duties. We have looked better organised and we haven't seen a repeat of the 3-3 type performances against Burnley. Mancini has come under some pressure already from fans, I think it's completely unwarranted, but the issue stems from a difference in styles. The defensive approach, didn't sit easy with many fans. I feel the lack of action in the January window, had added to Mancini's problems. Losing a creative asset such as Robinho, who for all his flaws still finished our highest scorer last season. The arrival of Vieira on a free, was a signal of intent for Mancini, the type of player he felt necessary to correct the flaws in the squad. I have been of the opinion that selling Elano and not replacing him, left us very short in the middle of the park. I think with Mariga, as an energetic box to box player, or Gago as a deep lying play maker, it would of made the middle of the park function much more efficiently. Sadly we could not seal either deal in the window, with one consolation prize of young up and coming winger Adam Johnson, who looks an exciting prospect for City and England!
From what I have seen from Mancini, I am excited, Inter looked a far more enjoyable side to watch in his second season there. His transfer dealings were very impressive too. Reaching 4th this season is very important, I think with our current team, we should be able to achieve this, if key players, such as Tevez and Bellamy stay fit and keep in form!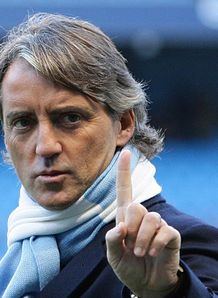 The future is looking bright for City, along with recent announcement for development around the ground, It's a real statement from our owners that this club has to be take seriously! The club wants to compete with the best clubs on the highest level. These developments will go some to way to helping City profitability and the chance to be self sufficient as a business!
Just a brief review, to step back into the blogging world. If you didn't read before, welcome! I am also on
twitter
, feel free to follow!
Next up Sunderland Away!